Livestream recording available: Exploring Solace Native APIs, June 24, 2020
hong
Guest
Posts: 480
✭✭✭✭✭
New to Solace? Using open APIs such as REST, Paho for MQTT or JMS with Solace? Want to learn the basics of how the Solace native APIs work? This session is for you! In this live coding session @TomF will go over the basic API concepts of how to connect to a Solace PubSub+ Broker and send and receive messages. You'll see how easy it is for different APIs and protocols to interact and share data, and come away with a basic understanding of how to write Solace Native API applications and microservices. Code examples will be Java but discussions and examples will show principles universal to all the Native APIs.
When: 10 am – 12 pm (EDT), June 24, 2020
Add to Google Calendar OR Download .ics file
Where:
Twitch.tv (https://www.twitch.tv/solacedevs) or
YouTube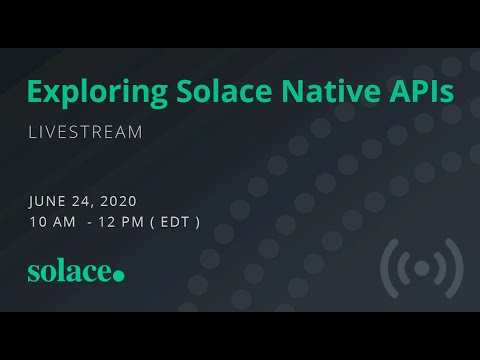 https://www.youtube.com/watch?v=M6lfnxsfW64
@TomF will show you how to do things during the live coding session, but if you want to get hands on yourself, just have a few things ready:
For more information, visit https://solace.com/event/exploring-solace-native-apis/
See you there!
Tagged: