Lightning Talks? You heard it! We want to hear from YOU.
Tamimi
Member, Administrator, Employee
Posts: 474
admin
Got a cool EDA or real-time project you've been working on? Want to talk about a cool tech or framework you used in your application that enhanced your development process for your event-driven application? What about Johny-Five for you IoT project or X-State for state management solutions? Cool tips & tricks for using Spring Cloud Streams? Want to share a story on a Solace use-case?
This is your moment to shine, share, learn and teach! We are launching our first ever Solace Community Lightning Talks on Wednesday, September 30th at Noon EST for 1.5 hours where we invite developers and thought leaders from the community and internally at Solace to share their experiences and cool project they worked on 🌟
The Solace Community Lightning Talks will be live streamed on our ever growing developer virtual events collection and will have the following format
1. Presentations/Demo will be a 10 minute long pre-recorded video OR live - we're easy going and want you to choose your comfortable approach.
2. 5 minutes Live Q&A with the audience and panel
3. Up to 5 lightning talks ⚡️
We would love to hear from you! Show us your interest by sending us an email to [email protected] with the subject line "Solace Community Lightning Talks" and mention what you would like to talk about with a small short simple and quick abstract. We will contact you shortly after to setup the logistics and rehearsals 😎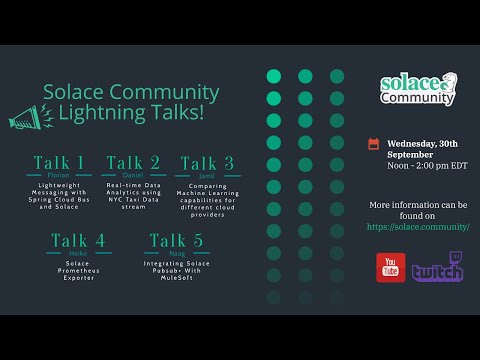 https://www.youtube.com/watch?v=sKPPGb75s4c
Comments